Global Resolutions, Inc is a Service Disabled Veteran Owned Small Business (SDVOSB), founded in 2005,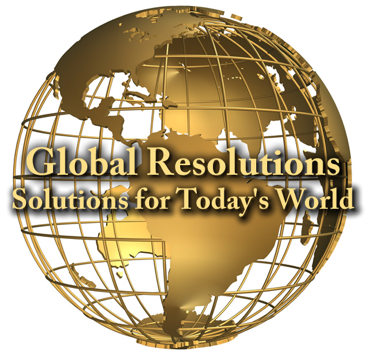 by former military and corporate leaders in Round Rock, Texas. Global's initial focus was to provide qualified and experienced manpower to the military to backfill all critical infrastructure positions as troops were being mobilized and deployed for Afghanistan: Operation Enduring Freedom (OEF) and Iraq: Operation Iraqi Freedom (OIF). As outsourcing requirements for products and services in the military community, as well as the civilian community, started to expand, so did Global's vision for other services directed to each of these markets.
Global's solution to providing our clients with the highest quality services and products is to Team with other Professional Companies to provided Management, Consulting, and Manpower support to Government, Military, and Civilian customers and agencies at the national, state, and local levels. We provide subject matter experts in the areas of Personnel Management and Staffing, Managed Services, Training Management, and Logistical Management.
Global is committed to bringing experience, skills, and knowledge, along with management and leadership to your team. Global wants to provide "reSolutions" to your requirements.
Mission Statement
Global Resolutions, Inc. is committed to providing expert man power management services to meet our client's challenges in the global marketplace. Our goal is to provide personnel products and services in accordance with the ISO 9000 Standards. Our ability to produce results through leadership, management, and by teaming with other professional companies will guarantee results.
Our Vision
At Global Resolutions, Inc. we have a Commitment to Excellence in all we do while providing quality manpower solutions and services for private industry along with State and Federal Government. Our commitment includes Business Process Improvement as we grow.